Author: Helios ESG and Elevator World, Inc.
Format: SFT (Software)
Publication Date:

Mobilize Your Safety Program 
The Future of Field Management
Elevator World and Helios Mobile have partnered to bring you the next generation in safety program management. By using your mobile phone or tablet, Safety Meetings (English or Spanish) can now be reviewed in the field, or at home, and digitally signed (optional) validating that each one has been completed.  Each mechanic is required to answer a series of yes/no questions that are scored to verify understanding of the safety topic.  The completed safety meeting is then automatically sent back to the supervisor and recorded in each mechanics unique folder.  Using a web-based management dashboard, a supervisor can view and resend uncompleted or failed tasks, review scoring and easily print or download needed documents.  ALSO AVAILABLE:  PPE Ordering, Mechanic, Vehicle and Jobsite Safety Audits, and the ability to track any internal certification requirements.
Providing a Safer Solution for you and your Company.
Please email brad@elevatorworld.com for more information about how this solution can simplify workflow, increase time on-the-job and strengthen your technician's knowledge of safety procedures on construction and maintenance jobs. If possible, please indicate in your email how many technicians your company has so that we can better address your needs.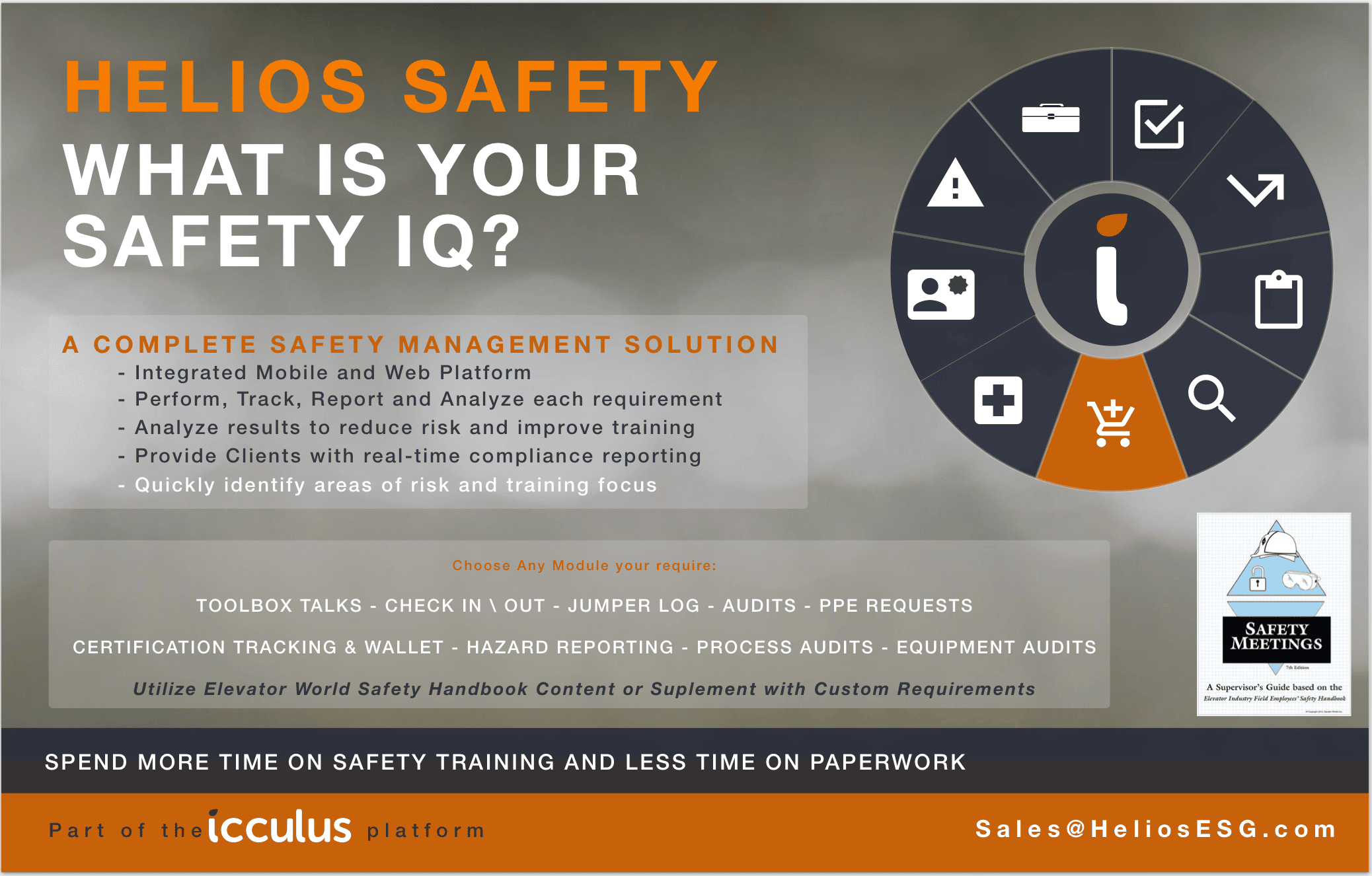 Click image to view larger.
NOW AVAILABLE AS OF 6/20/20: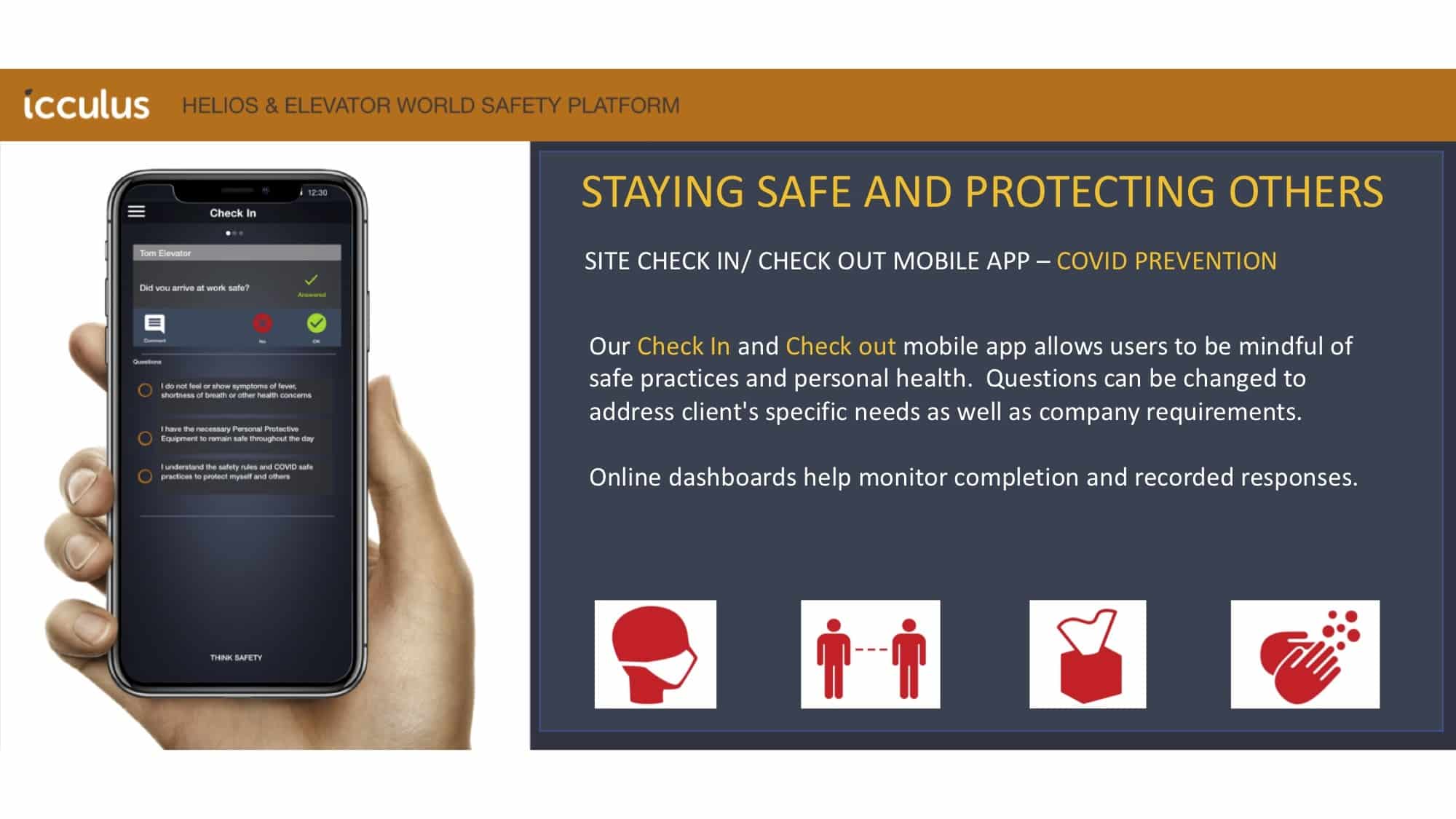 COVID-19 CHECK-IN AND CHECK-OUT
Our check-in and check-out module allows users to answer simple questions in the morning and at the end of their shift to be mindful of safe practices and personal health.
Questions can be changed to address companies specific needs and/or requirements.
Online supervisor dashboards help monitor completion and recorded responses.
NEW: ELEVATOR WORLD BOOK LIBRARY
13 books published by Elevator World can now be accessed through existing customer applications, or we can you started as a new customer today!
Currently available: 2020 Field Employees' Safety Handbook, A Manager's Safety Notebook (2020), Elevator Field Maintenance Handbook & Manual, Field Employees' Testing Manual, Educational Focus, Volumes 1, 2 & 3, Installation Manual, Elevators 101, User Reference Guide for Elevator Ropes, ADA & Building Transportation, Inspection Handbook and 2015 Field Employees Safety Handbook (Spanish Edition).
Helios was founded in 2011 in New York City with the intention of bringing data management efficiency to industries that were heavy on paper processes. The founders developed a massive database system that combined mobile technology with a workflow management tool, starting in the elevator industry for both inspections and maintenance management. The mission of the company has expanded to provide simple, efficient and cost effective systems to our clients to improve transparency and reduce overhead.
Elevator World, Inc. is the largest publisher in the world devoted to the elevator industry: publishing a monthly journal; compiling the Elevator World SOURCE, the most inclusive directory in the industry; publishing numerous books used for industry education; maintaining ELENET, a biweekly email newsletter; and developing the Elevator World online network, a group of specialized websites with more than 70,000 users a month. Elevator World is the publisher and distributor of the print-based materials for the four-year Certified Elevator Technician (CET) Education Program. The company is 66 years old and has played a key role in the transfer of knowledge in the vertical-transportation industry.