Author: Helios and Elevator World, Inc.
Format: SFT (Software)
Publication Date:

Complete this form to request a free demo
A COMPLETE SAFETY MANAGEMENT SOLUTION
The mobile safety application is designed to manage your field and office safety operations intelligently and efficiently. The process is created to challenge the safety knowledge of every user, pinpointing areas of improvement in both safety training and procedures.
MODULES INCLUDE:
Modules can be deployed at any time and can be customized to your company requirements. This approach allows you to integrate your safety plan at your own pace into our system. Choose from our curated safety content or work with us to import your own requirements. Utilize the entire package or choose the modules and features that most impact your business. Add additional moduals at any time.
Weekly Safety Meetings | Mechanics are sent a new toolbox talk each week to the phone and the results are automatically transmitted and stored in the web system. Managers can see the status of each employee and their results instantly.
Job Hazard Assessments | Collect hazard assessments from each job along with results and pictures, automatically keeping the results on the web platform for each site and mechanic.
Check In / Check Out | Make sure your field employees are safe. With our check in and out feature managers can make sure everyone shows up and leaves each day. With built in reminders you can make sure safety is always on the mind.
Process Training Audits | Track your training procedures and auditing through our mobile app location and understand the are as that need improvement or additional training. Setup auditing intervals and make sure everyone is audited on - time.
PPE Request Management | If you need new safety equipment or tools, you can request it through the mobile application and track the delivery process on the web. Load your specific PPE requirements into the system.
Mechanic & Vehicle Audit | Allow your supervisors and managers to perform regular audits of equipment and PPE for each employee and vehicle. Take pictures and create reporting, scoring the open items and tracking their close out.
Certification & License Management | Track all licenses , certificates and training requirements through our web application. Understand when renewals occur and track training classes. Keep copies of all documents on the web and in our mobile virtual wallet.
Elevator World Educational Book Library | Any book that Elevator World publishes can be added to the app for easy reference.
Hazard Management | If you see something, say something. Capture hazardous conditions and pictures through the app and automatically submit a report back to the office that can be tracked and sent to the appropriate party.
Jumper Log | Track the usage of jumpers in the mobile application and notify the mechanic with reminders of their use. Automatically create a daily report that is stored online for each set of jumpers.
REPORTING AND ANALYSIS:

Contact Required Reports | If you contract require specific safety records for your mechanics on the jobsite, we can provide the details into one simple report for those users that can be provide at weekly and monthly intervals.
Safety Training Analysis | Summarize your quarterly and annual SAFETYIQ to have your internal or external safety trainer build a custom training program around the greatest areas of risk.
OSHA AUDITS | Create simple reports and have 'management logins' to help with an audit from OSHA in the case of an accident. View on the web or print in one easy report.
THE CORE SYSTEM:

Cloud Based Platform | All data resides in the cloud and does not require any costly installation locally or integration with existing systems and platforms.
Web Management | Providing all dashboards and management tools on the web means you can access our system from any device at any time.
Mobile Application | Our mobile app is designed for any platform in any environment. With easy to use interfaces, limited typing and no confusion to the process.
Content and Analytics | We focus on the system and the workflow. Our subject matter expert partners provide the content specific to your industry and requirements.


Email tbruce@elevatorworld.com or call 251.479.4514, Ext. 20 to set up a free demo and for more information about how this solution can simplify workflow, increase time on-the-job and strengthen your technician's knowledge of safety procedures on construction and maintenance jobs. If possible, please indicate in your email how many technicians your company has so that we can better address your needs.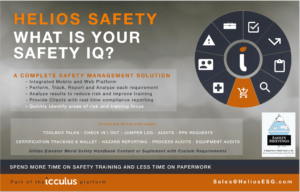 Click image to view larger.
Helios was founded in 2011 in New York City with the intention of bringing data management efficiency to industries that were heavy on paper processes. The founders developed a massive database system that combined mobile technology with a workflow management tool, starting in the elevator industry for both inspections and maintenance management. The mission of the company has expanded to provide simple, efficient and cost effective systems to our clients to improve transparency and reduce overhead.
Elevator World, Inc. is the largest publisher in the world devoted to the elevator industry: publishing a monthly journal; compiling the Elevator World SOURCE, the most inclusive directory in the industry; publishing numerous books used for industry education; maintaining ELENET, a biweekly email newsletter; and developing the Elevator World online network, a group of specialized websites with more than 70,000 users a month. Elevator World is the publisher and distributor of the print-based materials for the four-year Certified Elevator Technician (CET) Education Program. The company is 66 years old and has played a key role in the transfer of knowledge in the vertical-transportation industry.
Sign up for our Email Newsletter
Enter your email address to receive timely product alerts, special offers, discounts, and more.